Mention the Suwannee River to someone, and they'll start humming the age old tune, or begin talking about banjos and country folk. That's a guarantee. And now you're humming it, aren't you? Prior to this year, we'd been kayaking on and camping near this amazing river in North Florida for many years. But we always wanted to do a multi-day camping trip down river. We finally stopped putting it off, and planned a 4 day trip for our anniversary this past January.
The Suwannee River is famous for it's black water, limestone walls, and large white sand beaches. It starts up in southern Georgia in the Okefenokee Swamp and winds it's way approximately 250 miles down to the Gulf of Mexico in Florida. While there are tons of great paddling and camping opportunities in Georgia and near the Florida border, the Florida State Park folks have set up the Suwannee River Wilderness Trail, starting just above White Springs, Florida. They've built river camps with elevated screened in shelters with electricity, bathroom facilities, and also primitive camping. These are strategically placed at decent paddle distances between state parks that allow camping, and make planning a multi-day trip down river very easy. The best part is that camping at these river camps is free! You can paddle up and camp at whichever is open, or make a reservation by calling ahead. If they're all taken, you can camp in the ample primitive camping available too.
We decided to start our adventure just north of White Springs, FL. John from American Canoe Adventures dropped us off at the Hwy 41 bridge, and we were off! It was the perfect temperature our first day on the river, with highs around 70°F/21°C, and a gentle breeze. We paddled the 12 miles down river to our first stop, Woods Ferry River Camp.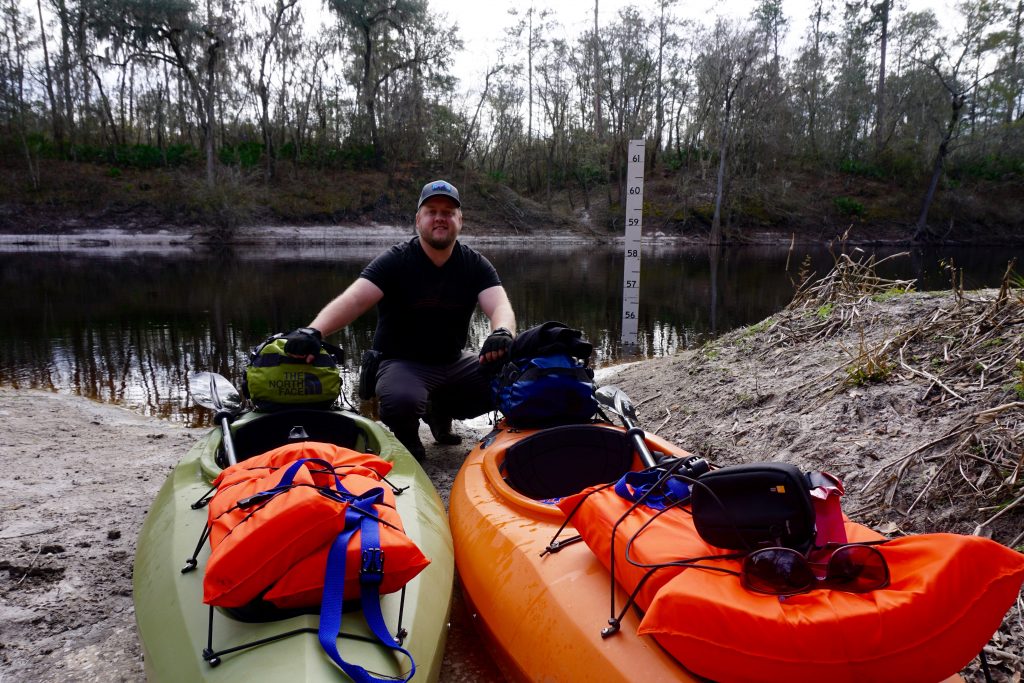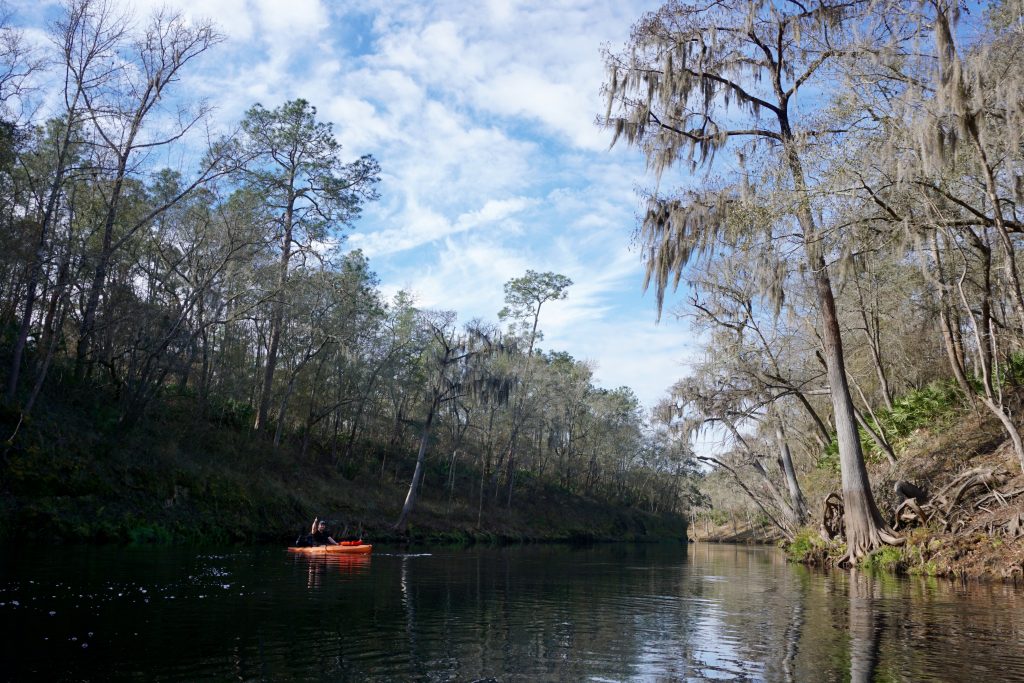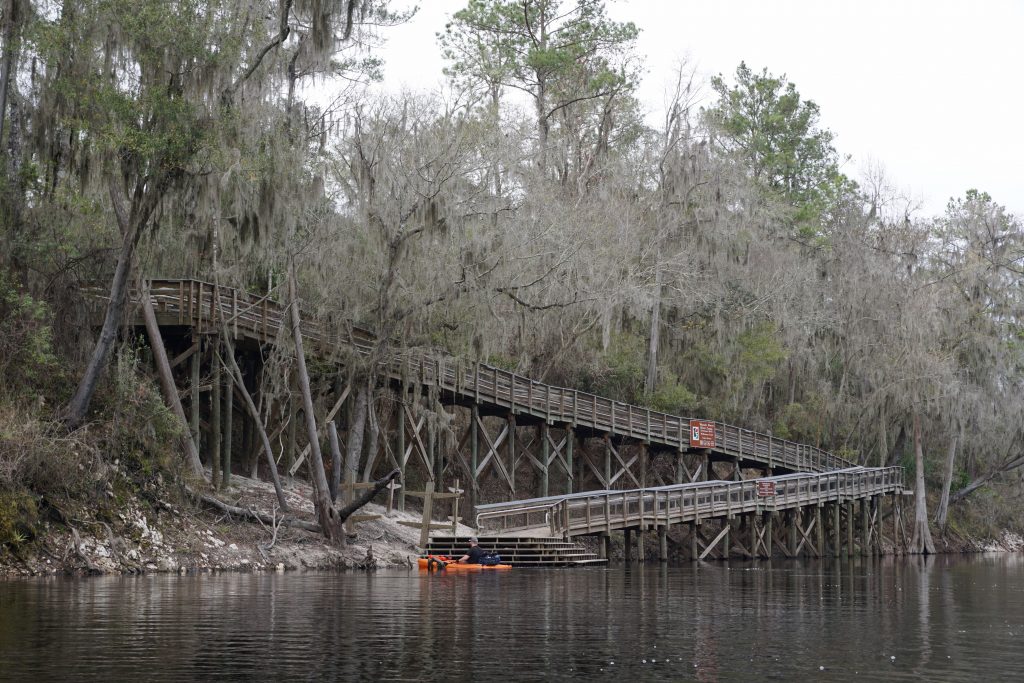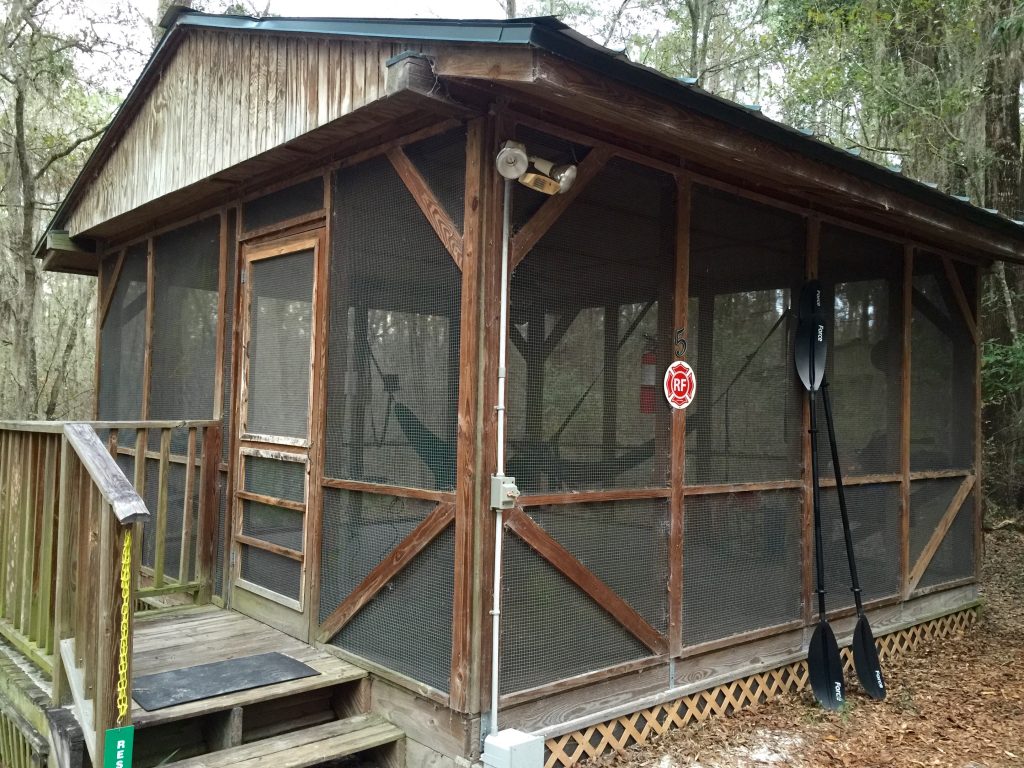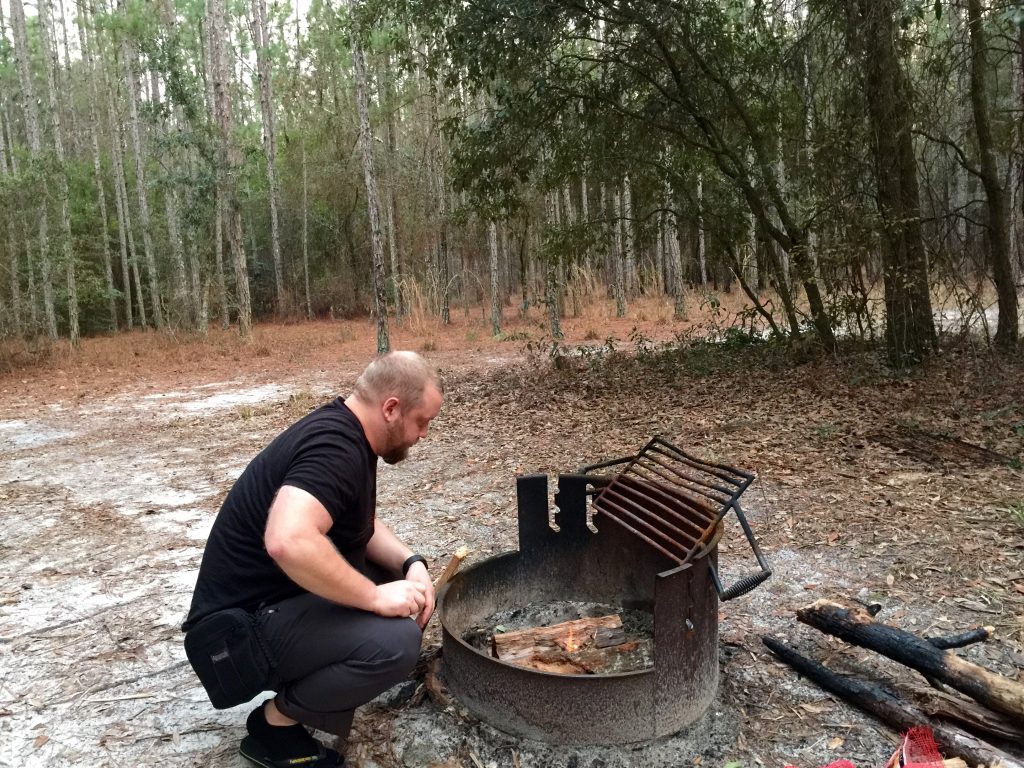 Once we arrived, we met the campground host, bought some firewood and set up camp. After paddling 12 miles, we were ready for some food. We started a fire, and began to cook our backpacking meals. We ate, and were instantly ready for bed. Hammocks
set up, we climbed in and drifted off to sleep.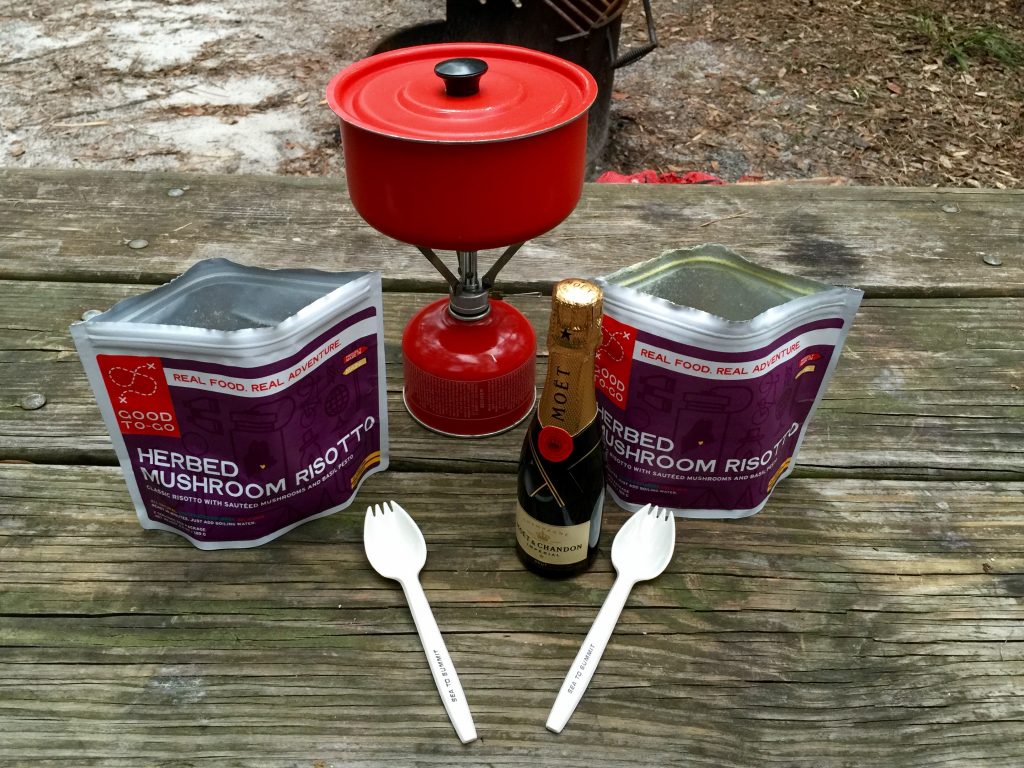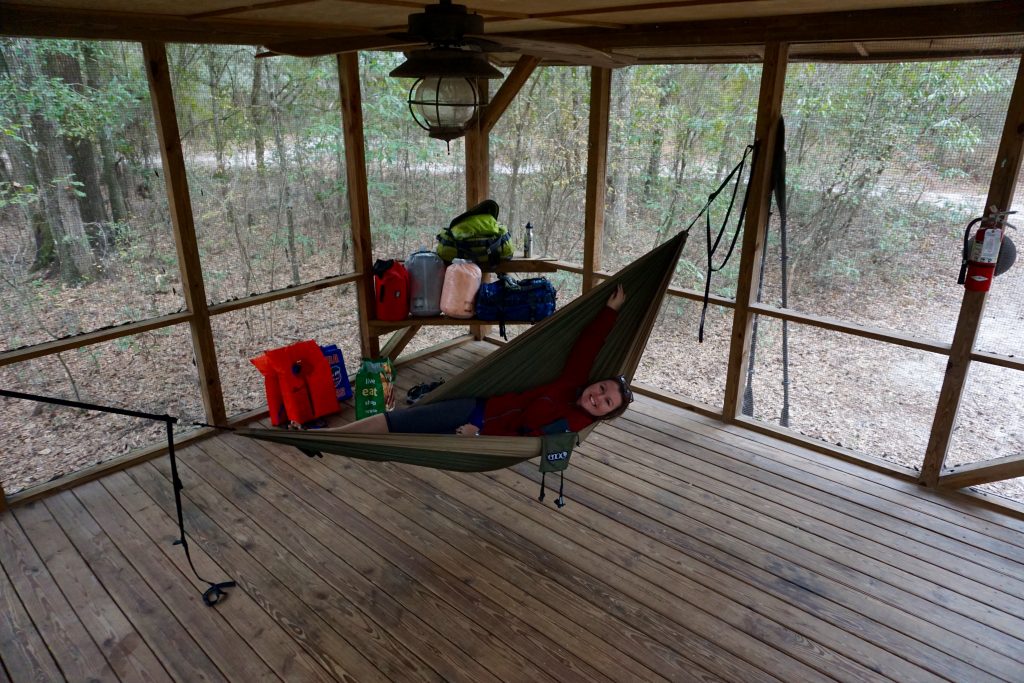 We woke up the next morning to the sound of rain, which is really peaceful, until your brain remembers that you're going to be kayaking all day in it. We packed up camp, donned our ponchos, and hit the river. Wow, it was cold and wet, and it made the adventure much more real.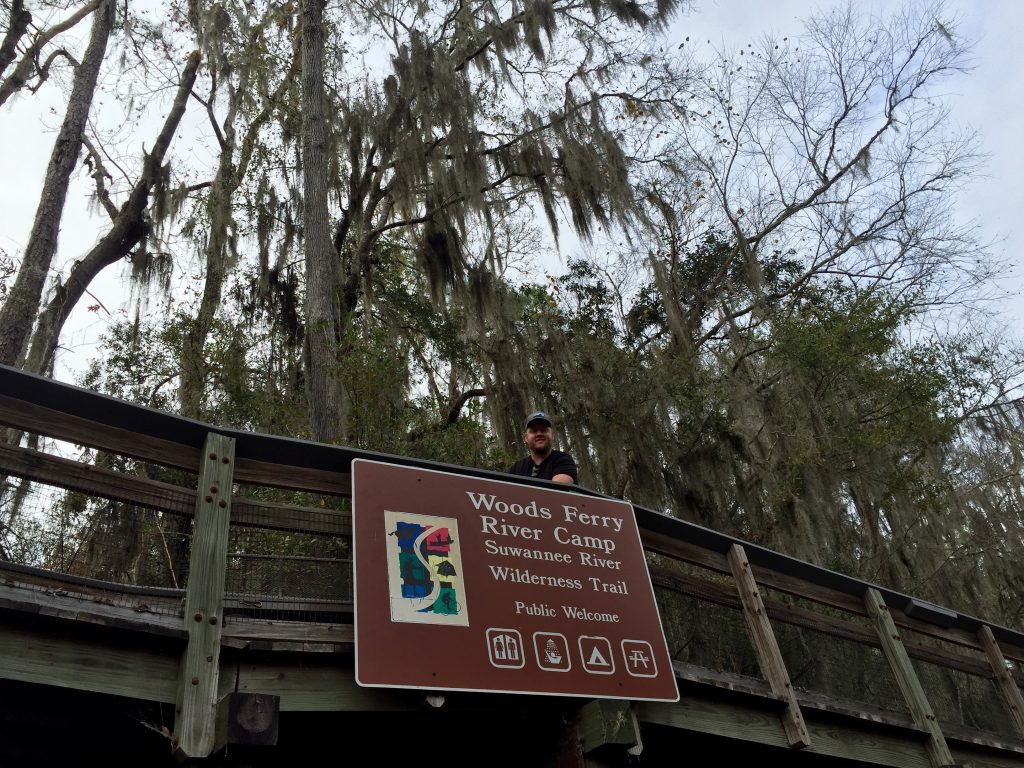 Our second day was insanely long. We paddled over 18 miles down river to our next stop, Holton Creek River Camp. Luckily, the rain stopped about midday and we were able to sort of dry out. It was a taxing day, and we had to turn on some good tunes on my phone to keep us chilled out and motivated. We pulled into the river camp about an hour before sunset, and it was already getting very cold. Lows for the night were predicted to be just a few degrees above freezing, so we started a fire to warm up by before going to sleep. *Pro tip *Heat some water on the fire or your backpacking stove, put it in your water bottle, then put a thick sock over it, and bring it in your sleeping bag with you to keep you warm*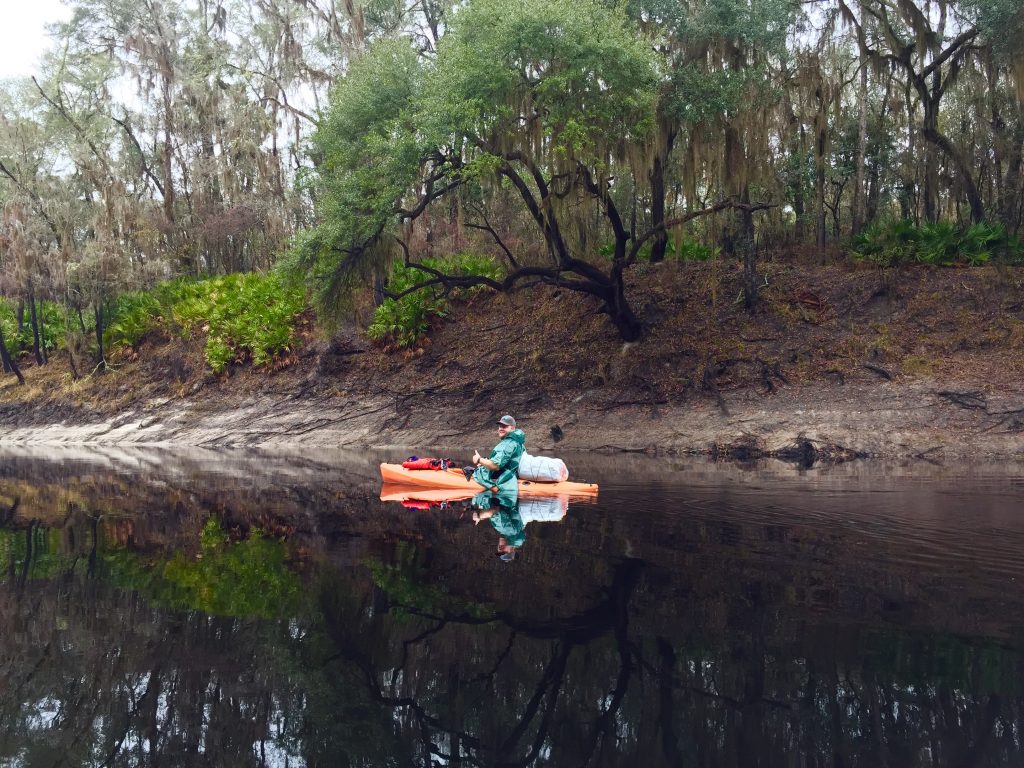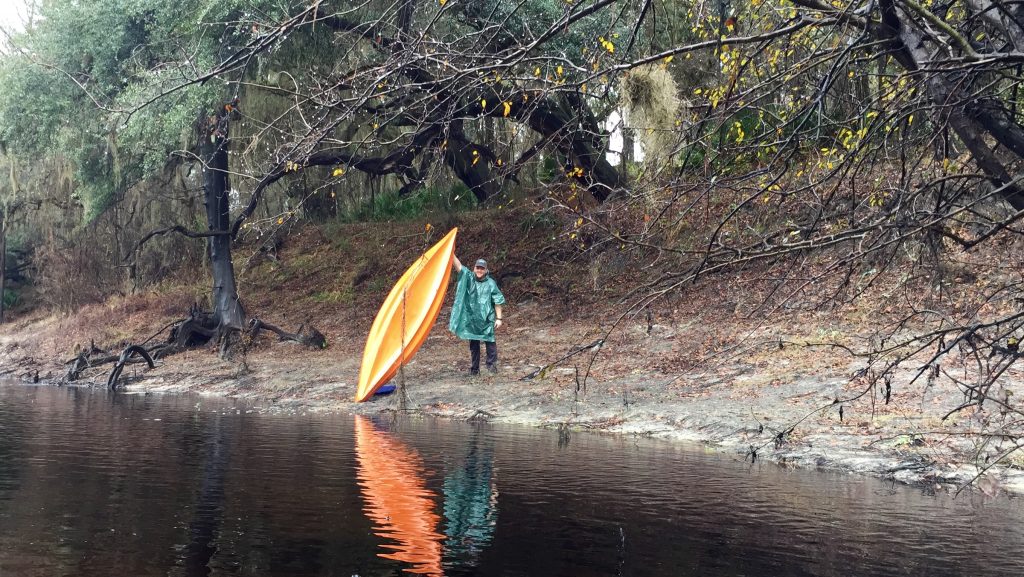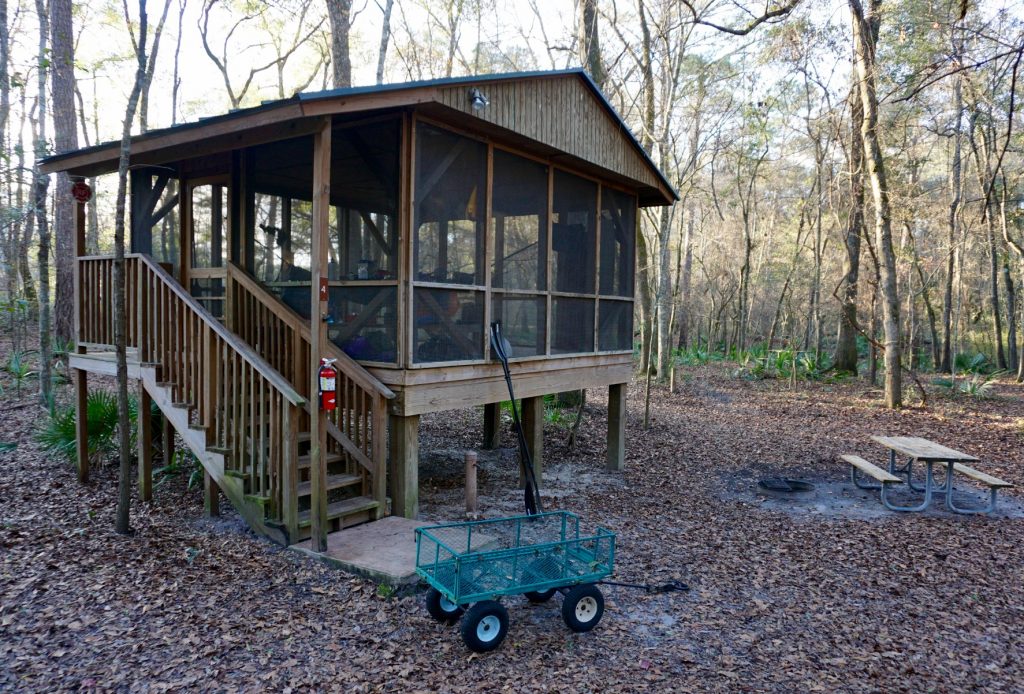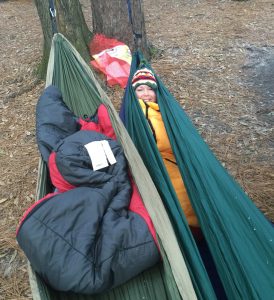 The next morning we woke up to no rain, which was awesome. But it was freaking cold! We put on all the layers we could and got our hand warmers out. We packed up camp again, and headed back out on the river. This time we were headed about 14 miles down to Suwannee River State Park, one of our favorite parks in all of Florida. Once we got out on open river, the wind started smacking us in the face. We took a million breaks just to put our hands in our pockets with the hand warmers. It even started to pour freezing rain down on us….yes freezing rain in Florida. We had kayaked around this area before, and when we finally made it to the familiar area of the state park, we were overjoyed to find somewhere out of the wind and cold. That night was supposed be below freezing temperatures and we had only brought hammocks to sleep in, which didn't provide much wind protection. Needless to say, we didn't sleep very well or very warm, but we survived, keeping the fire stoked all night long.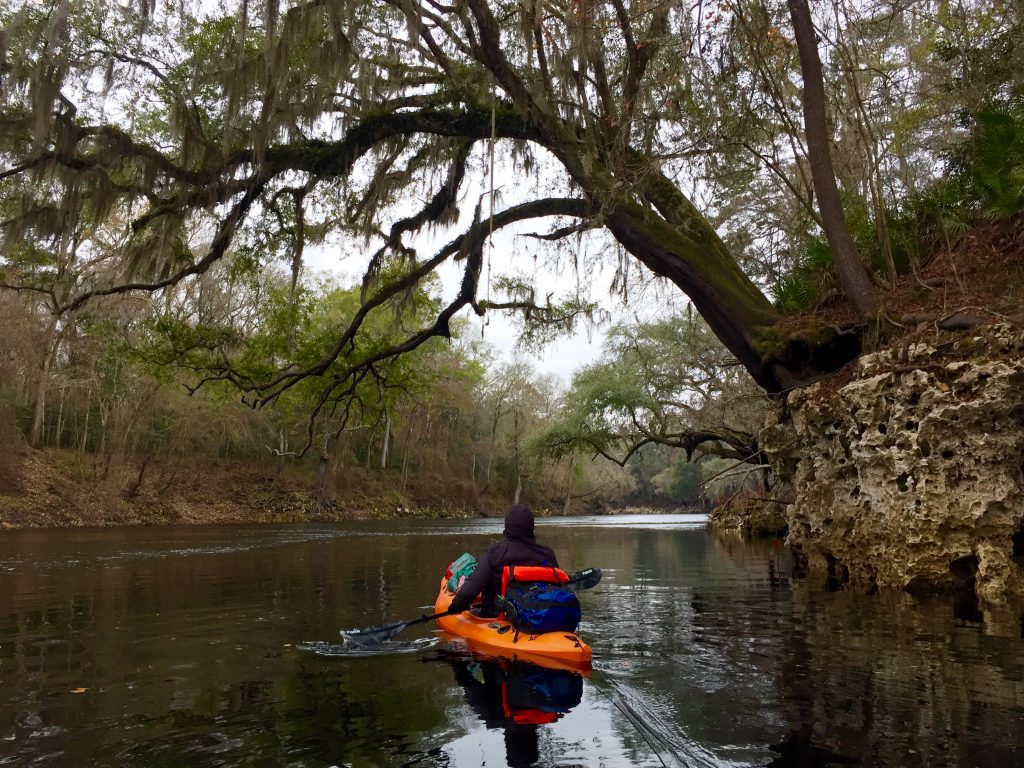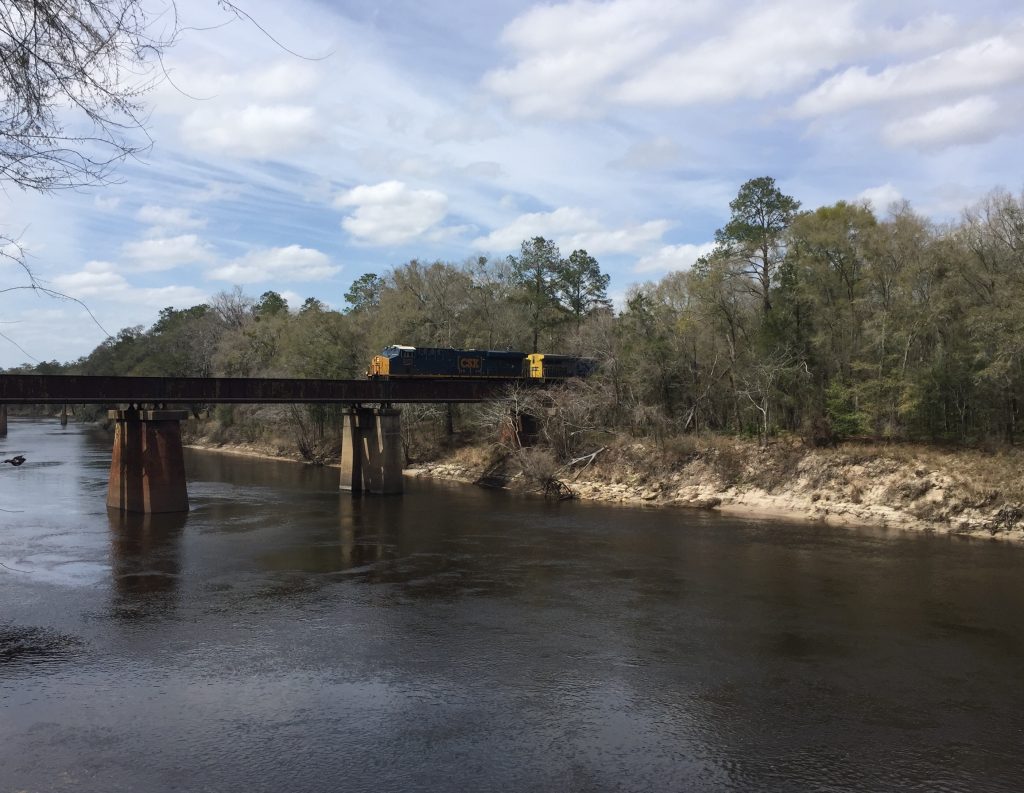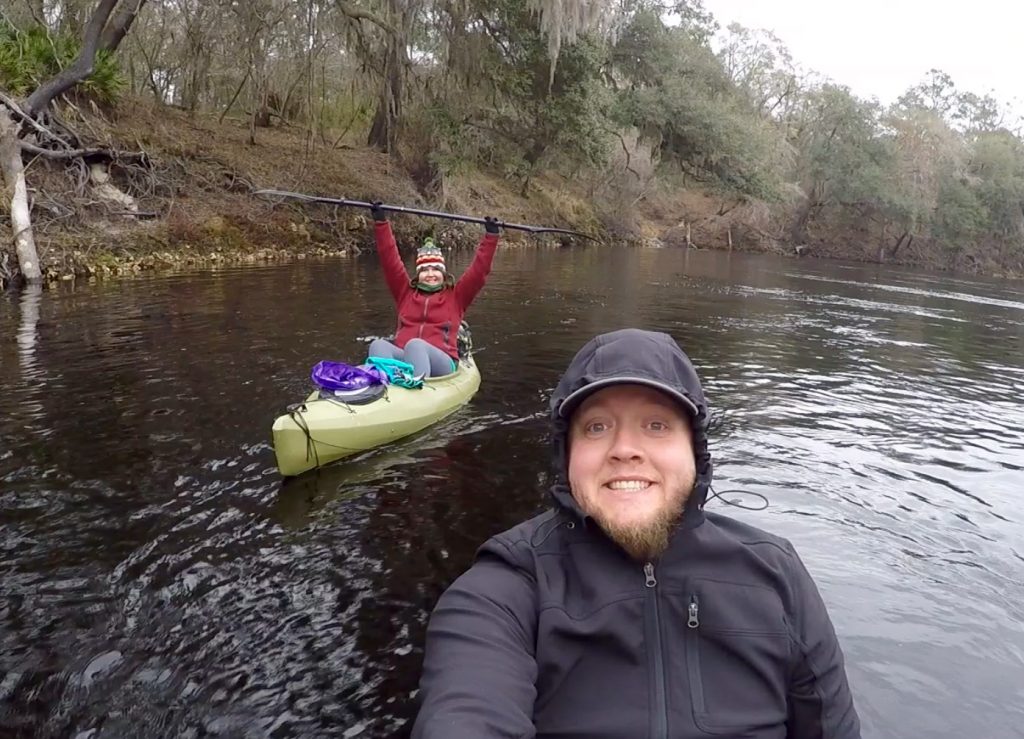 The next morning, John picked us up again and toted us back to our car. We immediately cranked the heat up and thawed ourselves out! The past few days on the river had been amazing, enjoying the simple pleasures of paddling and camping. We plan to do another trip soon on the southern part of the river out to the Gulf of Mexico. Read below to start planning a real Florida adventure on the Suwannee River Wilderness Trail today!
Gear Essentials:
Of course you'll need a kayak or canoe to start your trip. If you don't own one, there are many local outfitters you can rent from. Here are a few essential things we packed on our trip.
• ENO Hammocks
: These lightweight hammocks are perfect for sleeping in the river camp shelters.
• MSR Pocket Rocket Stove
: Affordable, lightweight backpacking stove, perfect for this trip. Make sure to get fuel too.
• Sea to Summit Dry Bags
: These are essential for keeping your important gear dry on the river.
• The North Face Base Camp Duffel
: This all but bombproof duffel worked great for this trip, and strapped on to the back of the kayak with ease.
• Good To-Go Classic Marinara with Penne 1-Person
: These delicious backpacking meals are easy to fix, just add boiling water, close the bag, and let cook. My favorites are the Risotto
and the Thai Curry
. They just added Pad Thai
and Indian Vegetable Korma
too. Yum!
Planning Resources:
• American Canoe Adventures in White Springs, Florida. John has been in business over 20 years and knows the river from start to finish. Unlike some other outfitters, he covers the entire river, even up into Georgia. He also rents canoes and kayaks. We can't recommend him enough!
• The main Florida State Parks site for the Suwannee River Wilderness Trail has all the go to information to start planning your paddle. Reserving a river camp shelter is FREE and EASY, just call 1-800-868-9914.
• Mysuwanneeriver.com by the Suwannee River Water Management District has all sorts of useful information from river levels to detailed maps.
Some of the links on this page are affiliate links. If you click on them and purchase the product, we receive a small commission, at no cost to you. This helps keep the site running. However, we only link to products we actually use, love, and recommend to others.